Getting Started in the Industry
We cover all the topics essential to making it in entertainment in a specific order that gets
results.
Representation
There are a few types of representation offered in the entertainment industry: a Talent Agent, a Talent Manager, or both. It is key for you to understand the difference between the two, what they charge, and how they work. You will hear many different opinions about the "right" way to go, however keep in mind that there are many factors at play and no ONE answer is always correct. You need to weigh each situation carefully and individually.
For a detailed legal analysis on the differences between talent agents and managers, we encourage you to read The Practical and Legal Differences Between Talent Agents and Managers in California by entertainment attorney Rob Pafundi.
DO NOT reach out to an agent or manager requesting representation until you have completed the first 4 steps of the KidStart Program. You need good photos and a resume first.
Talent Agents
Simply put, a talent agent represents talent (actors, models, singers, dancers, etc.) and their main responsibility is to get their clients work. The talent agent is in charge of submitting your child's photographs and resume to casting directors as well as negotiating your fee and working conditions. Talent agencies are regulated by the state in which their office operates and are not always required licensing. They work on a commission basis and, therefore, they should not require money up front. Commission is normally charged at 10%… BUT NOT ALWAYS, so make sure to ask your agent about their fees.
Be aware that not all agents represent children and you will need to find one that specializes in kids or teens. Further, agents usually specialize in one area of entertainment (commercial, theatrical, print, etc.) and it is not uncommon for an actor to have more than one agent. For example, you might have one agent represent you for film and television (a.k.a. theatrical), and a separate agent representing you for commercials or print. Additionally, if your goal is to start in commercials, you will want to specifically seek out a commercial agent that specializes in children.
Talent Managers
While both agents and managers function similarly, there is a simple distinction between the two: agents negotiate and service employment contracts, while managers engage in career direction.  A personal talent manager advises, councils, and acts as a liaison between their clients and the people with whom they do business (agents, attorneys, publicists, coaches, etc.) as well as the public.
Talent managers, like agents, work on commission. Their fee is paid in addition to an agent's fee and is normally charged at 15%. Remember, if you choose to be represented by both an agent AND a manager, you will pay approximately 25% of your gross income in fees off the top of every pay check.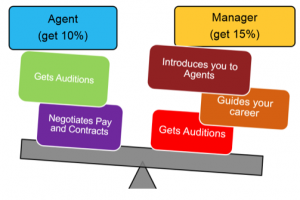 Make sure you do your homework in order to find a reputable manager. Managers are not licensed by the state or franchised by any of the actor's unions. However, there are a few organizations (such as the Talent Managers Association & the National Conference of Personal Managers) that set standards of conduct for professional talent managers, which managers can elect to join.
Here are some tips for finding a reputable agent or manager:
Compile a list of all the agents and managers that handle children in your area

Visit our new Forum section and get advice from other members

Visit the

SAG Website

Visit the

TMA Website

Research both the company and the representative
Mail, e-mail, or personally deliver your photo/resume and cover letter

Use a large enough envelope to avoid folding

Put "Photos – Do not bend" on the front of the envelope

Staple or glue your photo and resume back to back

Make sure the resume is sized to match your photo (8 x 10) with no paper bleed
Prepare a professional cover letter

Get the correct spelling of the agent's and agency's name

Keep it short, sweet, and to the point

Thank them for their time and consideration

Invite them to any performances in which your child is participating

Let them know that you will follow-up with a phone call in a few days

Keep a copy of every letter you send and mark on a calendar when you should make your follow up calls

Ask for an interview

Find out if they are holding 'open calls' for new talent.
The Representation Interview
WARNING:  No Advanced Fees!  You should never pay money up front to an agent or manager a condition of representation.
Interviewing a potential agent or manager:
If an agent or manager is interested in your child and calls you in for an interview, remember the interview is a two-way street. Here are some things you should look for:
A well decorated, modern-looking office is a good sign that the agency is doing well

Pictures of their clients, specifically known clients, are also a good sign

The agent or manager offers you a written contract for representation

You are not asked for any money up front

You are not asked to buy photos or classes
Remember, your talent representative works for you, not the other way around. Don't just jump at the first offer you get. Do your homework and shop around for the very best.
Preparing your child for the interview:
You've taken action getting your child's resume and headshots out there, and it's finally paying off. You've found a legitimate agent who is interested in your child. Congratulations! That's half of the battle.
Like with any professional, it is important that your child is prepared for their interview. Here are some tips for getting your child ready:
Make sure he/she understands that it is okay to talk to this stranger. We unfortunately live in a world where we must teach our children not to talk to strangers. However, in this industry it is essential that your child is friendly, courteous, outgoing, and well-mannered when meeting anyone new. Work with your child so that they know the difference between being approached by a complete stranger and meeting someone new.


Go over the proper ways to introduce yourself, use manners, and behave during an interview.

 

"A well-mannered and courteous child is well received and liked by everyone. It is crucial that you help your child be the best they can be by raising them and teaching them to be courteous and thus likable and successful."
– National Courtesy Council


Keep your child informed. They should know ahead of time that they're going to an interview and what it means to be meeting with an agent. Make sure you speak about this occasion as a fun and exciting opportunity, not as a stressful, do-or-die type situation. If your child feels pressure, it may be harder for them to be him or herself.


Let your child know that they may have to go into the meeting room without you, and that this is okay, because you've checked out the agent to make sure they're safe.
What to expect during an interview:
The interviewer is looking to see if your child can listen and follow directions, and if he/she truly wants to be in the business. The interviewer will probably ask open-ended questions to get a good sense of your child's personality and outlook on his/her potential career. Here are some questions you can practice with your child:
Can you tell me about yourself? What's something that makes you unique?

What is your favorite subject in school and why?

Do you play sports? What's your favorite thing to do?

What movies, TV shows, and/or books do you like? Who is your favorite character or actor?
These questions should lead to conversation. Practice will help you avoid a simple Yes or No answer.
Do NOT answer these questions for your child.
Other tips and tricks:
Make sure your child is well-rested, fed, and appropriately dressed (comfortable fitting, casual play clothes with no logos or crazy patterns are a good general rule)

No makeup, huge hats or bows, or jewelry

If possible, do not bring other children to the interview. If you must, bring someone to help you or toys and non-messy foods to keep them distracted

Be sure your kids snack on only "clean" foods before the interview. Clean foods are those which will not mess up makeup or wardrobe (for example, Kool-Aid will stain an upper lip and clothing!)

Send a thank you note after the interview

Remember the agent is also interviewing you. Show him/her that you believe in your child and are committed to his/her career

Once you do get an agent, it is a good idea to consult your attorney about the contract
Other ways to find an agent:
In step FOUR, we talked about coaches and classes. Acting coaches often have agent showcases. This is a great way for you to be "seen." Be sure to enroll in classes where you will gain experience and exposure.
You might also want to check out the IMTA or International Modeling and Talent Association. Since 1987, IMTA has consistently turned out an impressive list of "discoveries." Check them out at www.imta.com.